Genie Garage Door Openers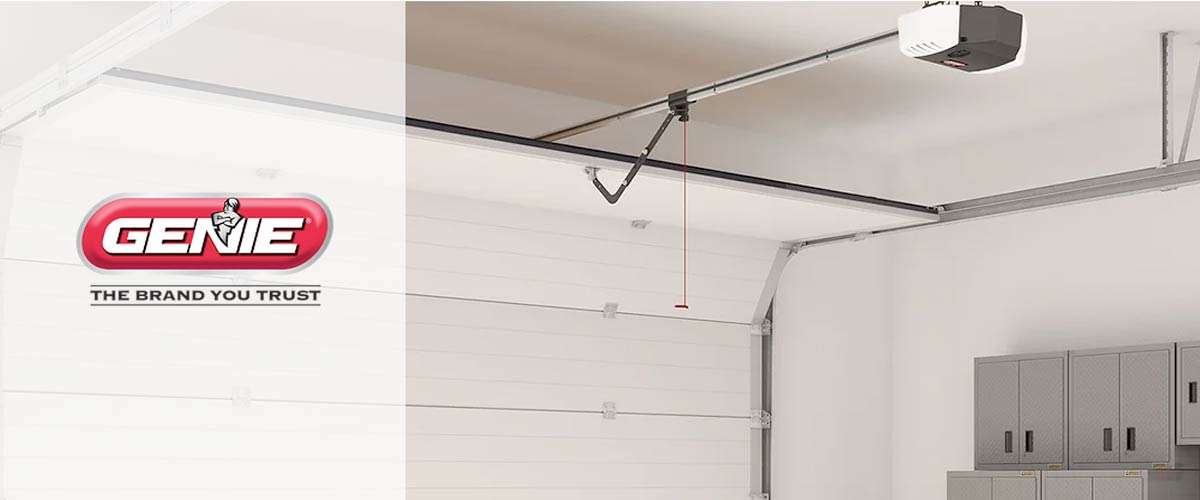 Is your Genie garage door opener causing you trouble? Don't worry, we're here to help! At Rainbow Garage Door Service, we specialize in repairing Genie garage door openers to ensure they function flawlessly. Whether you're facing issues with the remote control, sensors, motor, or any other component, our team of skilled technicians is equipped with the knowledge and expertise to diagnose and resolve the problem efficiently. Say goodbye to the frustration of a malfunctioning garage door opener and trust us to bring back the convenience and security you deserve.
Genie Garage Door Opener Service​
Remote Control Issues: If your Genie garage door opener remote control isn't working, it could be due to dead batteries, signal interference, or programming problems. Our experts will assess the situation, replace batteries if necessary, troubleshoot signal issues, and ensure proper programming to restore seamless operation.
Sensor Malfunctions: Genie garage door openers feature safety sensors that detect obstructions and prevent the door from closing. If the sensors are misaligned or malfunctioning, your garage door may not close or reverse unexpectedly. Our technicians will realign and recalibrate the sensors to ensure reliable and safe operation.
Motor or Drive System Problems: A malfunctioning motor or drive system can cause your Genie garage door opener to operate slowly, make strange noises, or fail to open or close. Our team will thoroughly inspect the motor, drive belt/chain, and other components to identify and address any issues, ensuring optimal performance.
Genie Garage Door Opener Repair
In some cases, Genie garage door opener repairs may require technical expertise and specialized tools. It's important to rely on professional assistance to avoid further damage or safety risks.
When your Genie garage door opener is acting up, don't let it dampen your day. Our skilled technicians are ready to diagnose and repair any issues, restoring the smooth and reliable operation of your garage door. With our timely and effective repair services, you can regain the convenience, security, and peace of mind that comes with a properly functioning Genie garage door opener. Contact us today for expert Genie garage door opener repair services and experience the difference in service quality!
What is the lifespan of a Genie garage door opener?
The average lifespan of a Genie garage door opener is typically around 10 to 15 years. However, this can vary depending on factors such as usage, maintenance, and environmental conditions.
Do Genie garage door openers have a lifetime warranty?
Genie offers different warranty options for their garage door openers, but they generally do not come with a lifetime warranty. Warranty periods can vary based on the specific model and components. It's best to check the warranty information provided by Genie or consult the product documentation for more details.
What would cause a Genie garage door opener to stop working?
Several factors can cause a Genie garage door opener to stop working. Some common issues include power supply problems, malfunctioning safety sensors, worn-out motor or drive system components, remote control programming issues, or faulty wiring. Consulting a professional technician can help diagnose the specific cause and provide appropriate repairs.
How do I reset my Genie door opener?
 To reset your Genie garage door opener, follow these steps:
 Locate the "Learn" or "Program" button on the opener unit.

 Press and hold the button until the indicator light turns on.

 Release the button and wait for the indicator light to go out.

 Perform the desired programming or reprogramming steps, such as syncing remote controls or setting up keypad access.
How do I program a Genie garage door opener remote?
The programming process may vary slightly depending on the specific Genie model and remote control type. However, the general steps involve:
 Locate the "Learn" or "Program" button on the opener unit.

 Press and release the button to initiate the programming mode.

 Within a specified time frame, press the desired button on the remote control that you want to program.

 Wait for the opener unit to acknowledge the programming by flashing or beeping, indicating successful remote control pairing.